Posted on Apr 18, 2023 5:20:11 PM
Low earth orbit (LEO) RF-based satellite constellations enable a wide range of applications, from broadband and Internet of Things (IoT) communications to RF monitoring and phased array systems. To keep up with the evolving demands of these applications, it is critical for space systems providers to continue to advance what is possible in small form factor payloads. The announcement of the Xiphos Q8RF is another instance of Xiphos Systems Corporation leading the industry in low size, weight, and power (SWaP) radiation tolerant platforms and is an example of how the combination of Epiq Solutions and Xiphos Systems will continue to advance space-based software defined radio (SDR) technology.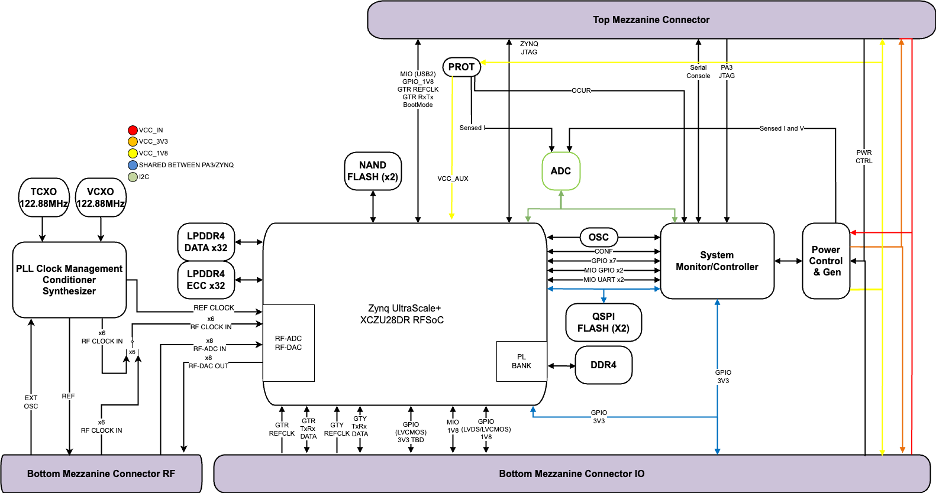 Q8RF High-Level Block Diagram
Next Generation SDR Capability
The Xiphos Q8RF is based on the Zynq® UltraScale+™ ZU28DR RFSoC, which feature eight high-speed analog-to-digital converters (ADCs) and eight high-speed digital-to-analog converters (DACs). The ADCs are capable of sampling up to 4GSPS, and the DACs are capable of sampling up to 6.5GSPS, enabling SDR applications that require greater than 1GHz of instantaneous bandwidth and access to RF frequencies up to 4GHz. Advanced processing is supported through the RFSoC's integrated quad-core ARM Cortex-A53, dual-core ARM Cortex R5, 930k system logic cells, and 4,272 DSP slices. Complimenting the RFSoC, the Xiphos Q8RF integrates 4GB of ECC-protected LPDDR4 RAM on the PS, 4GB of DDR4 on the PL, 512MB of QSPI Flash, and 64GB of NAND Flash. The flexibility of the Q8RF, as with all of Xiphos' processor products, is the availability, over and above the various RF inputs and outputs, of a multitude of the RFSoC's low and high-speed digital interfaces. These signals are made available via the Q8RF's mezzanine connector, enabling the development of application-specific daughterboards, tailored to various RF use-cases. This high level of integration will enable Xiphos' customers to push the envelope for next generation SDR applications.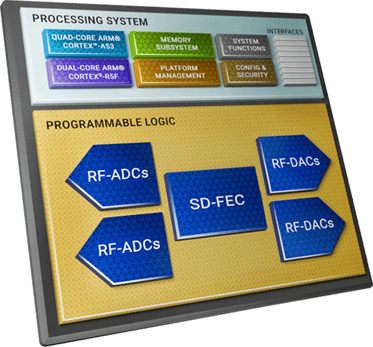 Zynq® UltraScale+™ RFSoC Block Diagram
Small Form Factor Leadership
The Xiphos Q8RF integrates the ZU28DR RFSoC and the required peripherals into a very small form factor. Measuring just 100 mm by 100 mm, and weighing less than 200 grams, the Xiphos Q8RF is ideal for cubesats and smallsats that require high performance, wide bandwidth SDR payloads. Additionally, the power consumption of the Xiphos Q8RF scales with application requirements, with different payload solutions consuming between 5W and 40W. The Xiphos Q8RF's combination of performance within a very limited SWaP footprint will enable even very small satellite payloads to advance their SDR mission capability beyond what was previously possible.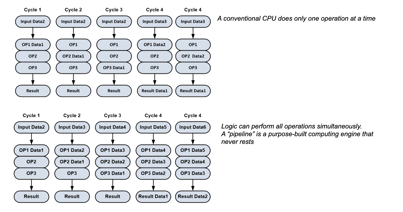 3D Rendering of Q8RF
Radiation Tolerant Heritage
Xiphos Systems has produced COTS-based radiation tolerant space processors for over 20 years, with more than a hundred successful LEO and International Space Station missions. Xiphos' products are also baselined on numerous lunar missions. The Xiphos Q8RF continues this heritage with a specified TID radiation tolerance of 30krads (Si), ideal for the radiation environment for LEO constellations.
Learn More
The Xiphos Q8RF continues to mature its technology readiness level and will be ready for early demonstrations by the end of 2023. To learn more about the Q8RF and Xiphos' other low SWaP space processor and SDR solutions, contact Xiphos Systems or Epiq Solutions at info@xiphos.com or sales@epiqsolutions.com.
Topics: SDR, Epiq Solutions, Xiphos
Author

Edwin Faier
Edwin Faier is the President of Xiphos Systems Corporation and has more than 20 years of experience in the space industry, leading best-in-class embedded processor, payload control, remote sensing, and SDR solutions.